Adways is making full use of our assets to make innovations not only in our main internet ad service but also in every kind of business fields.
Innovation, speed and scale-these are the most important criteria when making an investment decision.
The environment surrounding Japanese startups has changed drastically as several billions funding and high-valued M&A cases have been seen these days.
Startups make innovations happen. We are building a new future for startups where they can get support not only from venture capitals but also business companies.
Adways' business is not only what we have now. Supporting business of startups and making innovations is also our mission. That is why we keep investments.
We will WOW the world and become an "OMG, This is Amazing!" company through our investment business.
ABOUT
In 2001, Adways was founded. Now after 15 years, we have grown to become a leading mobile app marketing company where 1,000+ multi-national employees are working in 10 countries and regions.
Strategic return is much more important than financial return. We are here to support small businesses in this cutting-edge internet field which can create a synergy with Adways.
Investment Scope
We are looking for ambitious IT companies which can generate a synergy with Adways.
Our main focus is Ad technology/ Mobile+Tablet contents / B2B/ Ecommerce/ Data mining/ Video/ IoT/ Fintech and VR.
Investment Policy
The stage of company does not mind us. The early-stage companies are welcomed.
Adways never forgets about our venture spirit. We do care about the investment return and our financial status. But, more importantly, our investment decision will be made based on whether we can grow together with startups. We will support small companies that can create a new synergy with us and generate a win-win situation in future.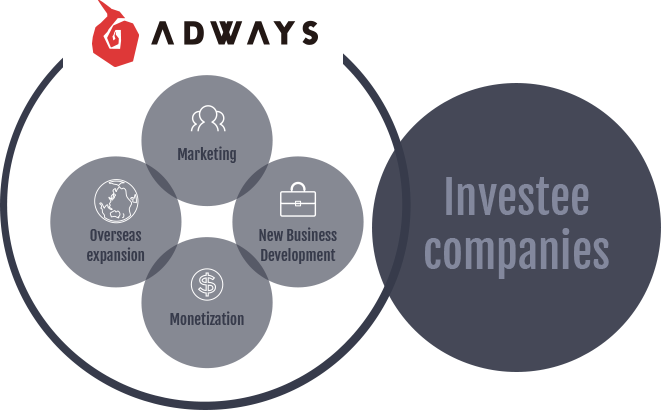 Our Advantage
The leading mobile app marketing company

We work with 15k+ clients and 900k+ publishers around the world.

Support for overseas expansion

China, Korea, Taiwan, Vietnam, India and more, Adways' global network and local know-how will support startups' expansion in Asian countries.

Collaboration with other companies

We will build a win-win business cooperation by getting the most out of our assets.
Company Profile
Profile
Company name
ADWAYS Ventures, Inc.
Stockholder
Adways Inc.(100%)
Board of Directors
CEO Sho Yamada
Director Akihiko Nishioka
Director Nobuyoshi Noda
Director Bumpei Tateno
Auditor Yoichi Tanaka
Founded
28 February 2011
Capital
JPY85,000,000
Business
Corporate Venture Capital
Address
| | | |
| --- | --- | --- |
| Address | 38F Sumitomo Fudousan Shinjuku Grand Tower, 8-17-1 | Nishi-Shinjuku, Shinjuku, Tokyo 1606138, Japan |